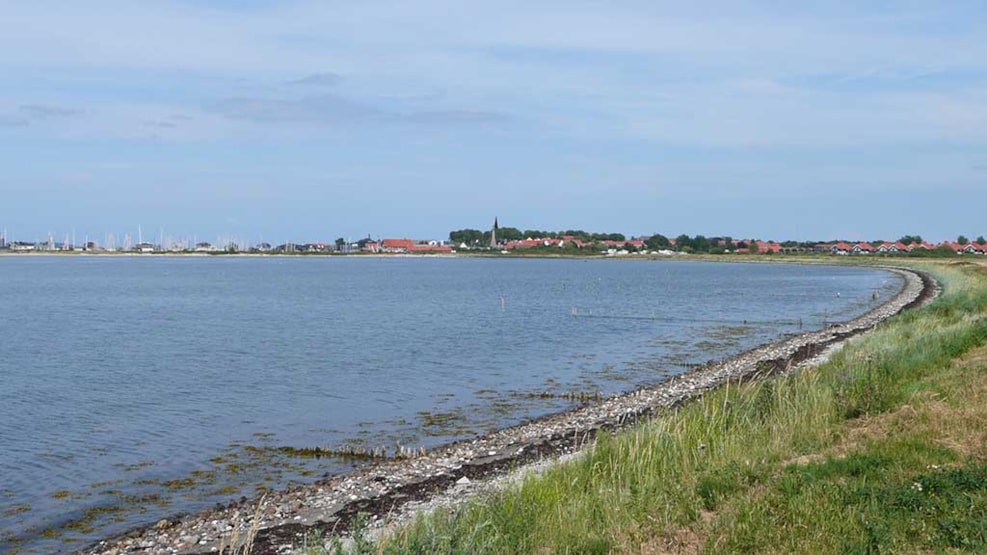 Guided hike Bogense - Fogense - Hugget
Come along on an 18-km guided hike along the beautiful coast to the Kattegat between Bogense and Fogense! Along the way we'll enjoy a picnic.
Bogense is Denmark's nicest market town, Fogense is a former island that has become a beautiful part of the coast by Bogense, and Hugget is an idyllic agricultural area close to the coast.

The tour goes along the dike and the coast overlooking the sea that surrounds Bogense. From here you can see Jutland and on a day with a clear sky also all the way to Juelsminde. From the coast, we'll move a little further inland and past Hugget, which forms an idyllic landscape. Here you'll experience North Funen from its most beautiful side. We'll also go past Skovby Church and the Renaissance castle Harridslevgaard, which according to the legend was used by robbers and thieves but today is a beautiful and peaceful building in the North Funen surroundings.

At Kærby, we'll take a break to enjoy a where a chicken salad sandwich and a beer / water in green surroundings.
 
Along the way, the guide will tell you about the landscape and make sure we're all on the right track.

The route is 18 km long.
When
The tour will take place:
Wednesdays 13 April, 13 July and 3 August at 10:00-15:00
Good to know
Price: DKK 95, -

Meeting point: The square in front of VisitNordfyn, Vestre Havnevej 9B, 5400 Bogense

You can park at Bogense Marina and walk from there to VisitNordfyn, where you can also get your own map of North Funen if you wish.

The lunch with sandwich and a beer / water is served mid-way on the tour when we'll take a break for a while.

Do you have any food allergies? Please contact us at info@visitnordfyn.dk or +45 64 81 20 44 and we'll find a good solution for you.