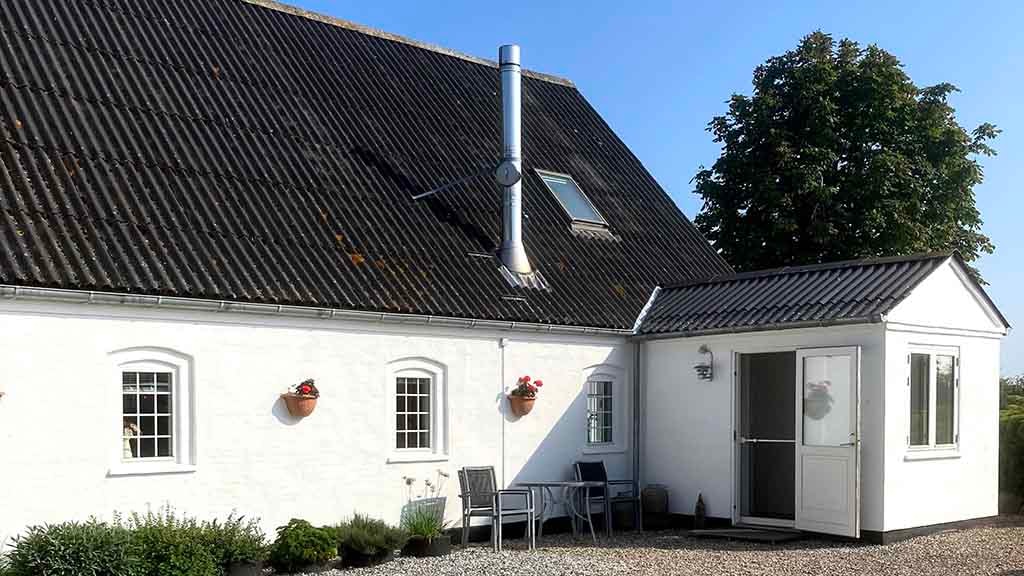 Fully renovated holiday home of 160 m2 with 8 beds!
Stay in a beautiful country house close to Æbelø, close to the HCA Golf Course and the cozy market town Bogense.
Accommodation in North Funen in a nice renovated large house with TV, wood stove, 2 bathrooms and a fully equipped kitchen with coffee machine, dishwasher and microwave + various accessories for a well-functioning kitchen, such as kitchen roll, dishcloths and tea towels.
There is free Wifi in the apartment.
The house is located between Jersore and Nørreby, a few kilometers from the ebb road to Æbelø, about 12 km to the HCA Golf Course and about 12 km to Bogense. The house is part of a barn and is located opposite the farmhouse on a former farm in the countryside.
There is also a weekend bed / cot and high chair.
Ground floors:
Kitchen-dining area
A large bedroom
A small bunk room connected to the bedroom
Bathroom with shower
1st floor
2 rooms with double beds
Large family room with table and chairs
Bathroom with shower, washer and dryer
There is parking by the house. Cozy garden with fireplace and seating areas.
Bed & Breakfast:
If you want to book an overnight stay with breakfast, it is also possible. Contact the owner for further agreement.
Prices for accommodation:
The whole house for 1 week incl. electricity: DKK 5000, - and cleaning DKK 500, -
1 person/ night: DKK 350, - The price is incl. cleaning
2 people/ night: DKK 500, - The price is incl. cleaning
Families, more than 2 people: DKK 200, - person/ night (however min. DKK 500, -)
Bed linen and towels are included in the price.