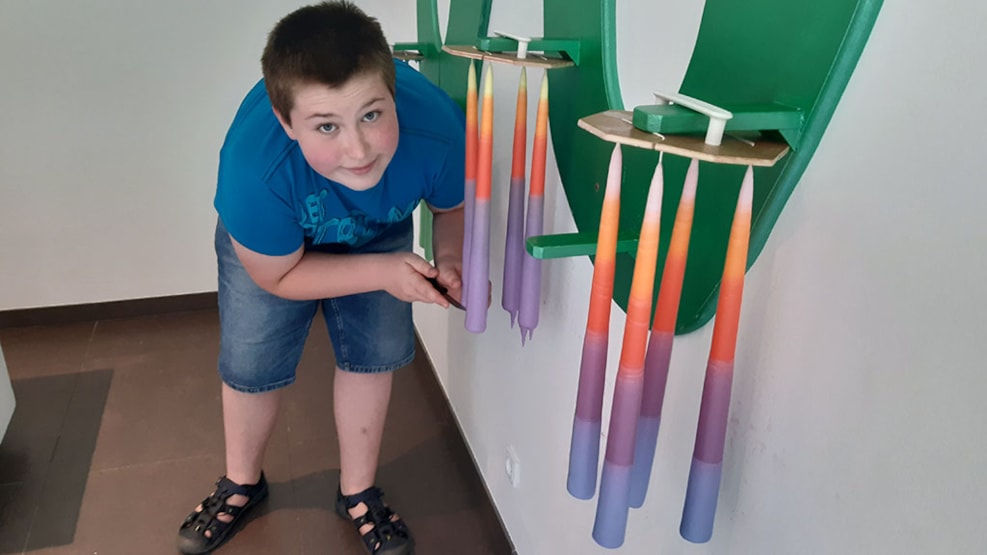 Candle making during the Summer holidays at Aagaardens Lys - kopi
Make candles with family or friends - it's fun and cosy at Aagaardens Lys all summer long!
Making candles is a wonderful activity that both children and adults can enjoy together. The tranquil setting and the warmth of the vats are therapeutic and provide a space for contemplation.
You'll take home your beautiful candles, which bring joy when lit or given as gifts. You can choose from 10 different beautiful colours for your hand-dipped candles. You can make your candles multicoloured, twisted, rustic, dotted - you name it, let your imagination run wild.
While the candles harden, you can enjoy refreshments and homemade cakes in the café.
You can also buy crafts and handmade candles in the shop.
How to make candles at Aagaardens Lys
You buy 2 wicks per person, which makes 4 candles. The candles are charged by weight, so you only pay for the materials you use.
Approximate prices for 4 candles are:
Short candles (23 cm) 50,00 kr.
Medium candles ( 30 cm) 62,00 kr.
Long candles (40 cm) 80,00 kr.
Opening hours
You can buy wicks until 1.5 hours before closing time.
You don't need to book an appointment - just turn up when Aagaardens Lys is open.
May:
Week 18: 1.-6.5.2023
Monday - Saturday 11-17
Whitsun: 27-29.5.2023
Saturday - Monday 11-17
June:
Week 25: 19.-23.6.2023
Monday, Wednesday, Thursday, Friday, Sunday 11-17
Week 26: 26.6-2.7.2023
Tuesday - Friday and Sunday 11-17.
July:
Open weekly Tuesday-Friday and Sunday 11am-5pm.
Monday and Saturday closed.
August:
Until 22 August.
Open every week from Tuesday-Friday and Sunday 11-17.
Monday and Saturday closed.
Week 34: 21.-25.8.2023
Tuesday - Friday 11-17
Monday, Saturday and Sunday closed.
Week 35: 28.-31.8.2023
Monday - Thursday 11-17
Friday, Saturday and Sunday closed.